Denby Pottery Village & Visitor Centre in the heart of the Derbyshire countryside approached us with the need for rebranded signage applied to their buildings, both externally and internally.
When the question of rebranding the site was raised, we immediately jumped at the opportunity. We have worked very closely with Denby Pottery for a number of years namely with the production of all their POS materials, not just for their main production site, but for their other stores up and down the country, so to us this was a natural progression.
Having conducted an extensive site survey and various meetings and discussions where made to identify the best materials to use for the job, along with confirming the necessary access equipment which would be needed for the installation, we set about creating design mock-ups and renders of the proposals for client sign off.
Once the final approvals were made we got straight to work with the production, with each sign being correctly referenced according to their location on site which meant that the time required to install was cut significantly.
Working directly with the centre staff, we ensured disruption was kept to an absolute minimum, whilst guaranteeing maximum effect for publicity and visitor experience.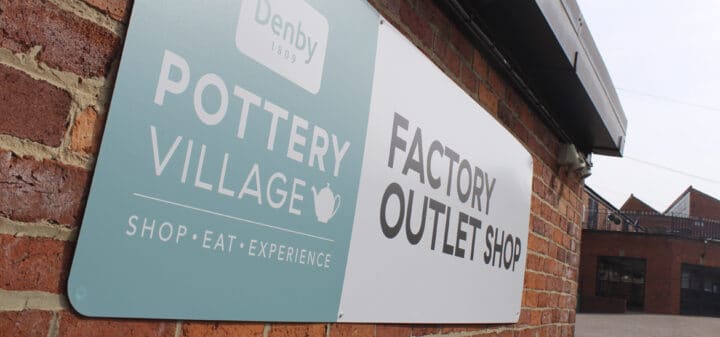 Make An Enquiry
To discuss your requirements in detail or to request a bespoke quote please contact our team.
Enquire Now
Denby Pottery Retail Signage