The University of Nottingham launched a sport brand and needed to roll the brand out over five different sites (UP SORTS CENTRE, UP POOL, HIGHFIELDS , SUTTON BONINGTON & JUBILEE). Three companies were approached and asked to provide detailed proposals on how they would achieve this if given a budget of £30,000. After several meetings with the client a proposal was submitted and John E Wright secured the project in full.
John E Wright & Co have the depth of skill, knowledge & resources that is unparalleled within this sector and under took the projects management and production at our print head quarters in Nottingham just a stones throw away from the University's main campus.
The University wanted to showcase a wide range of visual communication and weren't shy when it came to bold statement pieces, some of which include…
1 x 1.5 x 1.5m, 50mm thick, 3D Built up, aluminium logo (powder coated) brass standoff locator rods
1 x 1.5 x 1.5m, 100mm thick, 3D Backlit, Built up, stainless steel logo (powder coated) brass standoff locator rods
4 x 4m x 4m 3D Foil based molded vinyl logos – Printed roll to roll
(gives the appearance that the logo is painted onto the brickwork)
2 x 1.5m x 1.5m Fret cut 20mm thick 3D acrylic logo's – printed direct, routed out of 10mm, built up in 2 layers
1 x 2m x 15m Dibond hoarding graphic – printed direct to 3mm aluminium composite
2 x Printed Gazebo's – printed using dye sublimation
31 x Mesh Banners – printed roll to roll
31 x Frosted vinyl logos – kiss cut frosted vinyl
20 x Branded notice boards – printed direct, poster frames & dispensers mounted to face
6 x 2m x 1m reverse mounted acrylic panels (rounded corners)
5 x Vinyl cut graphics for 5 x reception desks – printed & kiss cut
6 x Vinyl cut graphics for conference room – printed & kiss cut
2 x 2m x 2m printed window graphics – printed roll to roll
3 x 6.5m x 0.5m vinyl graphics for 3 x squash courts – printed roll to roll with santex lam
Our IPAF & PASMA trained installation team needed to use a 15m electric powered Genie lift and scaffold tower to achieve the height required to enable us to install the massive foil graphics in the two giant sports halls.
We were given four weeks to turn the whole project around, some of which we didn't receive artwork for until one week prior to the deadline. We were issued a strict deadline of 31st July 2014, we could not exceed this deadline as the sports department needed to have all work in place to ensure it fell in to that years budget.
All work was completed, delivered & installed on time and the client feedback was very positive.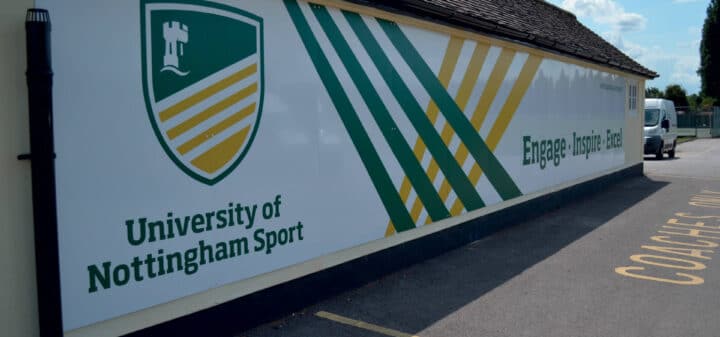 Make An Enquiry
To discuss your requirements in detail or to request a bespoke quote please contact our team.
Enquire Now